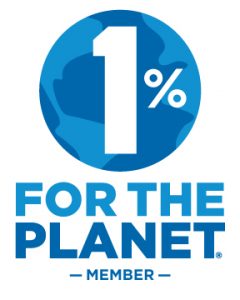 We are incredibly excited to announce that Clubmate has joined 1% for the Planet, pledging to donate 1% of annual sales to support nonprofit organisations focused on the environment.
"Everything Clubmate does is aligned to improving our communities and environment," said Owen Chapman, Founder of Clubmate. "In our view, there is no greater cause than working together to support and protect our home – our Planet. Without it, we wouldn't be able to enjoy sport, especially fishing!"
Members of 1% for the Planet commit to supporting approved environmental nonprofit partners by donating the equivalent of 1% of sales through a combination of monetary, in-kind, and approved advertising contributions. Nonprofits are approved based on referrals, track record and environmental focus. There are thousands of approved nonprofits worldwide.
Collectively, 1% for the Planet Members have donated more than $175 million to environmental nonprofits to-date.
"We are thrilled to welcome Clubmate  to our global network," said Kate Williams, CEO of 1% for the Planet. "Currently, only 3% of total philanthropy goes to the environment and, only 3% of that comes from businesses. We need more business like Clubmate to do its valuable part to increase giving and support on the ground outcomes."
About 1% for the Planet
1% for the Planet is a global organisation that connects money with doers to accelerate smart environmental giving. We recognise that the current level of environmental giving – only 3% of total philanthropy – is not enough to solve the most pressing issues facing our planet.
Through our business and individual membership, 1% for the Planet inspires people to support environmental organisations through annual membership and everyday actions. We advise on giving strategies, we certify donations, and we amplify the impact of the network.
Started in 2002 by Yvon Chouinard, founder of Patagonia, and Craig Mathews, founder of Blue Ribbon Flies, our members have given more than $175 million to environmental nonprofits to date. Today, 1% for the Planet is a network of more than 1,400 member businesses, a new and expanding core of hundreds of individual members, and thousands of nonprofit partners in more than 60 countries. Look for our logo and visit www.onepercentfortheplanet.org to learn more.
About Clubmate
Clubmate is a hassle free member management platform 100% focussed on simplifying the running of Fishing clubs, associations and fisheries.
Reducing barriers to join, Clubmate makes it easy for members to sign up, renew, make payments, book pegs & purchase club branded merchandise – online 24/7. Members aren't the only ones to benefit – supporting club staff and volunteers, Clubmate automates those time consuming, mundane admin tasks ensuring everyone can benefit and spend more time on the water.
We believe that grassroots sport is the foundation for stronger communities, healthier lives and a happier society and we want to do all we can to support this.