An optional service we provide for many fishing clubs, is to print and send photo ID cards direct to your members door.
The cards come with your club logo, branding and each one is personalised with your members details, including photo, name, membership type, membership number and any other relevant membership information. They are the same size as a credit card so fit easily in your wallet or a lanyard and as they are water proof, members can no longer blame the weather for not carrying their proof of membership with them!
But aside from the professional look the cards provide, there's also some significant time saving for your volunteers and members.
Membership secretaries no longer need to manually cut, write, laminate & post each card out. Bailiffs can confidently ask for proof of membership without receiving the vast range of excuses.  Plus members no longer need to pay for passport sized photos to be made or arrange for self-addressed envelopes to be stamped and sent.
There's less hassle, less time spent on admin and greater security at your waters – everyone wins.
To help explain how the service works, we've provided some answers to the most commonly asked questions below.
What are the cards made of?
To help try and avoid plastic pollution, we only print biodegradable plastic cards.
What size are they?
Standard credit card size: 86mm by 54mm.
What information can be displayed on the cards?
Each card will display the following information as standard:
On the front – Club name, Club logo, Member name, Member photo, Membership number, Membership category, Membership expiry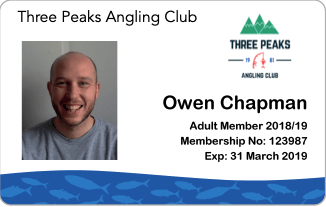 On the back – Club address, up to 3 x contact names & numbers, Gate PIN's, club affiliations.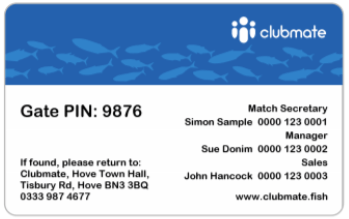 It is possible to add/remove fields on both the front and back, please contact a member of the team to discuss requirements.
How much does it cost per card?
Our pricing is listed here
All costs include delivery + any applicable taxes.
Is it possible to send anything else with the cards?
Yes this is possible. We currently send out additional inserts such as keys, stickers, parking permits, books etc.  Please note that there is an additional fee per insert dependant upon the size & weight of the insert (minimum of 70p per insert).
We can often print & personalise these items for you too.
Do ID card credits expire?
No – the credits remain valid until they are used up. This means you can purchase credits upfront that can be utilised over multiple years.
Is it possible to customise the design?
To help keep the cost as low as possible, we provide a standard template as per above. We can also accommodate a bespoke design of your choosing however this will attract a higher cost per card.
How are the cards sent and are they delivered to the club in bulk or to the member?
The cards are sent via Royal Mail and are delivered direct to the members address.
How long does the card take to arrive at the members address?
Most cards are delivered within a week however we recommend allowing up to 10 working days for the card to arrive.
What happens if a card doesn't arrive, are we charged for the replacement?
If the club / member has provided the correct address and the card has not been received within 10 working days then we will send a replacement card free of charge.
If the address provided by the club / member was incorrect then the replacement card will incur a standard charge of one ID card credit.
How do we get the photo on to the cards?
Members can upload their photo online or a club admin user can upload the photo within Clubmate. We will then automatically add the members photo to the card before printing.
We only want to send cards to some members and not others, is this possible?
Yes. When we first set you up, we will agree on which membership categories should or shouldn't receive a card. This will then dictate who we send cards to. For example, you could decide that you only want memberships purchased online to receive a card but memberships purchased offline do not. Or maybe only Adult members receive a card and Juniors do not. Whatever you decide, we can be quite flexible to meet your requirements.
Is it mandatory to use the ID card service when signing up to Clubmate?
No not at all. The ID card service is an optional add-on service, we have many clubs using Clubmate that do not use the card service.
Are there any additional security features?
We can add a variety of security features to the card dependant upon your needs – barcodes, QR codes, magnetic strips, contactless technology etc. Please speak to a member of the team to discuss specific requirements.
To find our whether our ID card service could work for you, get in touch or give us a call 0333 987 4677.