Run and grow your Fishery with confidence
Clubmate is all-in-one Fishery management system that takes the work out of selling tickets, managing memberships & protecting your venue

GROW. SAVE TIME. STAY IN CONTROL.
Powerful Fishery management software
Supercharge your Fishery with Clubmate, the leading fishery management software solution.
With Clubmate, you'll be able eliminate unnecessary paperwork, back-and-forth phone calls with customers and time spent on thankless tasks.
Whether it's selling day tickets, managing memberships, bailiffing your waters or taking payments – Clubmate has all the tools you need to simplify the running of your venue, whilst earning more money.
Start automating repetitive tasks so that you can spend less time at your desk and more time developing your business.
24/7 online bookings that you're in control of
Manage your venue from anywhere with the Clubmate App
Accept online & offline memberships (with or without waiting lists)
Simple check-in tools
Make data-driven decisions with actionable insights
Go online and let anglers do your admin for you
One workspace for all the team – including Bailiffs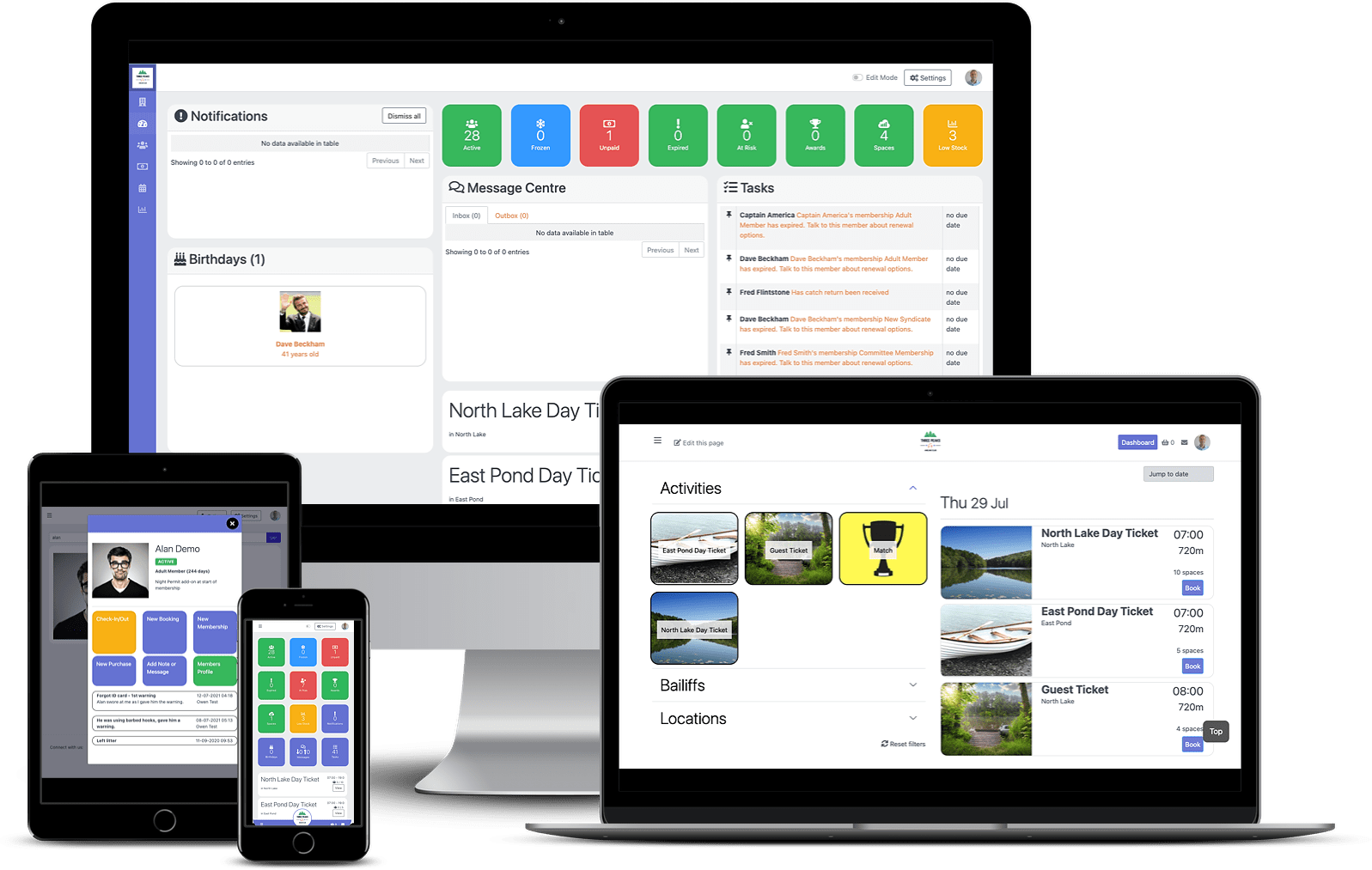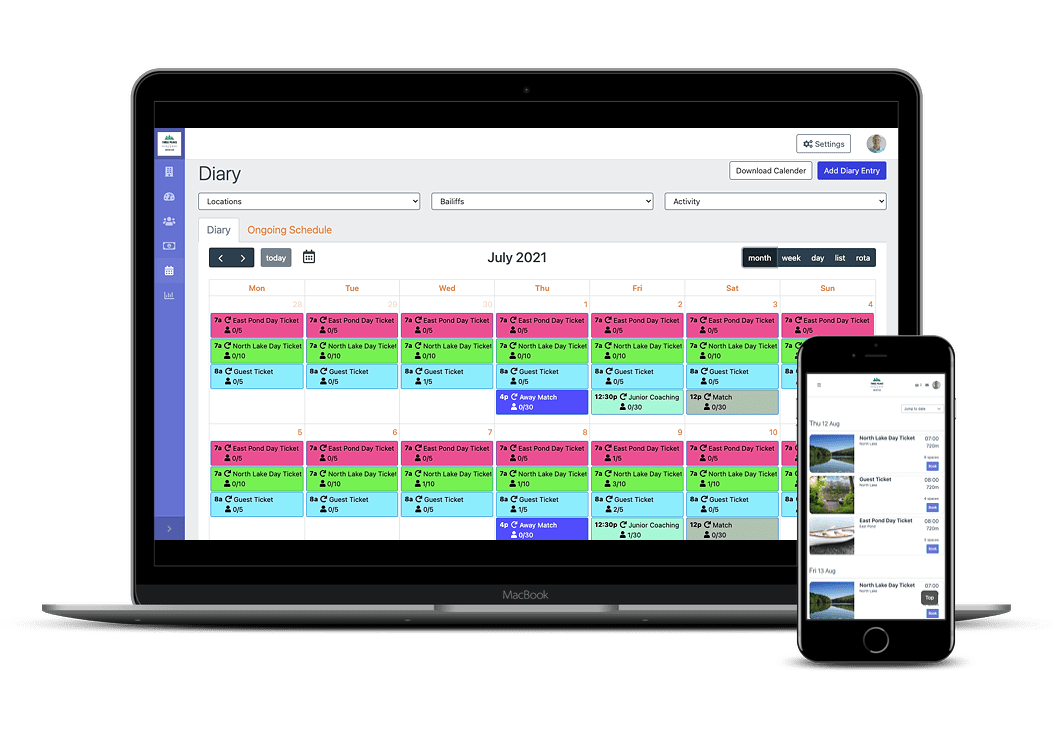 MORE TICKET SALES. LESS PHONE CALLS.
Be available 24/7, on your terms
Forget endless ringing phones and interruptions. Let your customers, members & visitors check availability, book and pay online 24/7 without you having to lift a finger (or phone). Easy as that.
Remain in control at all times, manage availability on the go and ban any unwanted anglers from making future bookings.
Accept bookings online or in person, whichever works best for you and your customers.
Manage online & offline availability from one place
Ban unwanted anglers
Stay in control and automatically stop selling spaces once you've reached your limit
Flexible scheduling rules & logic to suit your venue
Endless booking options – day tickets, matches, guest tickets, swim bookings + more

SAFE, SECURE & HASSLE FREE
Membership management, sorted
Whether your members renew on a fixed date or on the anniversary of when they join, Clubmate automates the process so you'll spend less time on admin.
Anglers can pay by debit/credit card or if you offer recurring payment options, they can pay by Direct Debit too. And when they pay, the system will automatically update their record for you and notify you of any unpaid fees.
All member data, including any custom fields you wish to collect, will be available to access online, from anywhere. Limited data access is also available for your bailiffs via our dedicated Bailiff App.
Are you operating at capacity and have trouble keeping on top of your waiting list? We have tools for that too.
Accept online & offline memberships with or without waiting lists
Move away from spreadsheet headaches and access all member data in one secure online database.
Add notes to member records, accessible to the whole team
Suitable for syndicates, closed memberships and those looking to grow
Share member data across the team in real time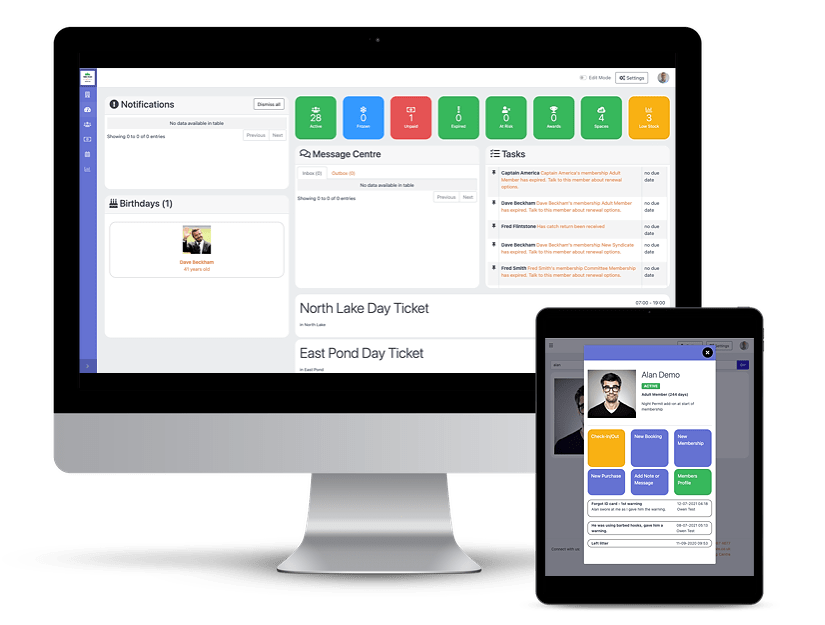 The Clubmate app
ACCESS YOUR VENUE, FROM YOUR POCKET
ADMIN ACCESS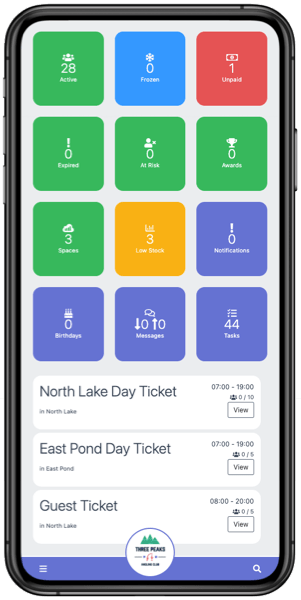 Manage your venue at anytime, from anywhere
Access up to date information at the click of a button
Process memberships, sell tickets and increase revenue on the go
Reduce your workload and share access with approved staff members
BAILIFF ACCESS
Eliminate doubt and verify anglers details, instantly
Check in anglers on the go
Take payment on the spot
Bailiffs have restricted access to angler data (GDPR)
ANGLER ACCESS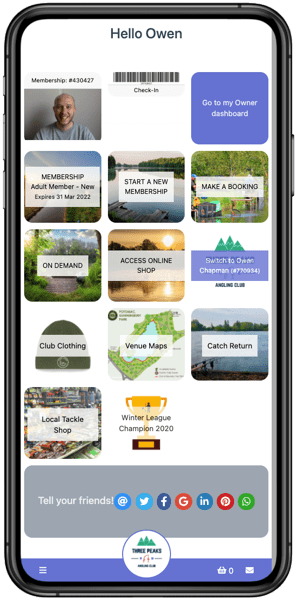 Give anglers the power to book on, whenever it suits them
Encourage repeat business by making it easy for anglers to book your venue
Send instant communications with Push notifications
Sell additional products, offer promotions and choose 3rd party advertising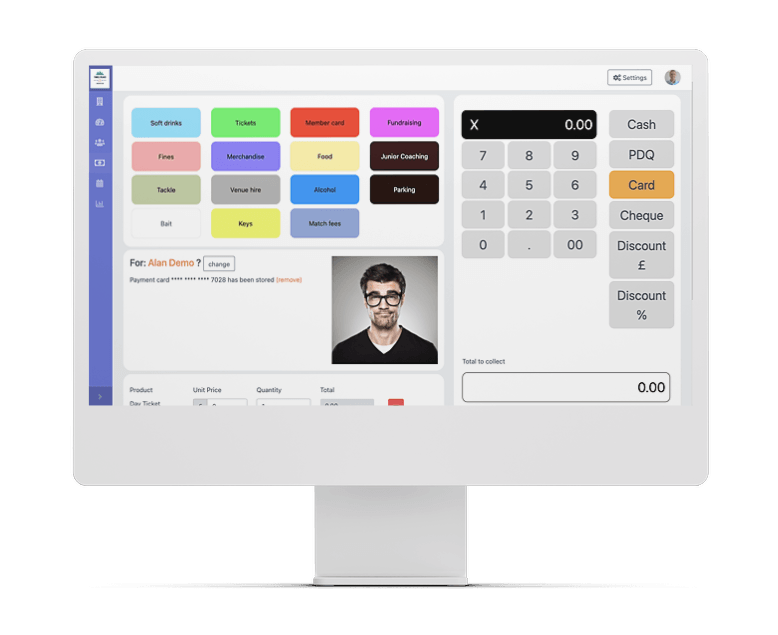 GET PAID QUICKER
Payments made simple
Accept payments online and in-person with our suite of payment tools.
Clubmate provides a simple process for anglers to buy tickets, renew memberships, book matches and purchase products, securely online from any device, 24/7.
And for anglers who still prefer to pay on the day, you can easily record these into the system using our powerful Point Of Sale tool  – the more options you offer, the faster you'll be paid.
Accept online payments by debit card, credit card and direct debit.
Payments are automatically reconciled against each customer record.
Process and record online & in-person sales with PoS
Manage upsells and add-ons easily
Real-time financial reporting provides insight in to who has paid, and who hasn't
Mobile card readers – COMING SOON

REPEAT BUSINESS ON TAP
Built-in marketing and communication tools
Reach new customers, drive repeat business, and build relationships with our powerful, built-in marketing and communication tools.
With all of your contacts stored within the Clubmate database, you'll be able to send out fishing reports, newsletters, promotions and more via email, text or push notification. If you're low on bookings, use Clubmate to identify customers who haven't visited for a while and entice them back with a special offer.
Supercharge your marketing with automated messaging. Set up and send messages on auto-pilot, based on triggers and customer activity that you define.
Be in your customers' pockets 24/7 with the Clubmate app – designed to make rebooking with you as easy as possible, whenever they want.
Let customers repeat book in seconds with the Clubmate App
Send individual or group messages via email, text or push notification
Get important information to anglers fast
Send marketing messages on auto-pilot
Identify lost customers and win them back
Fill empty swims on quiet days with promotional offers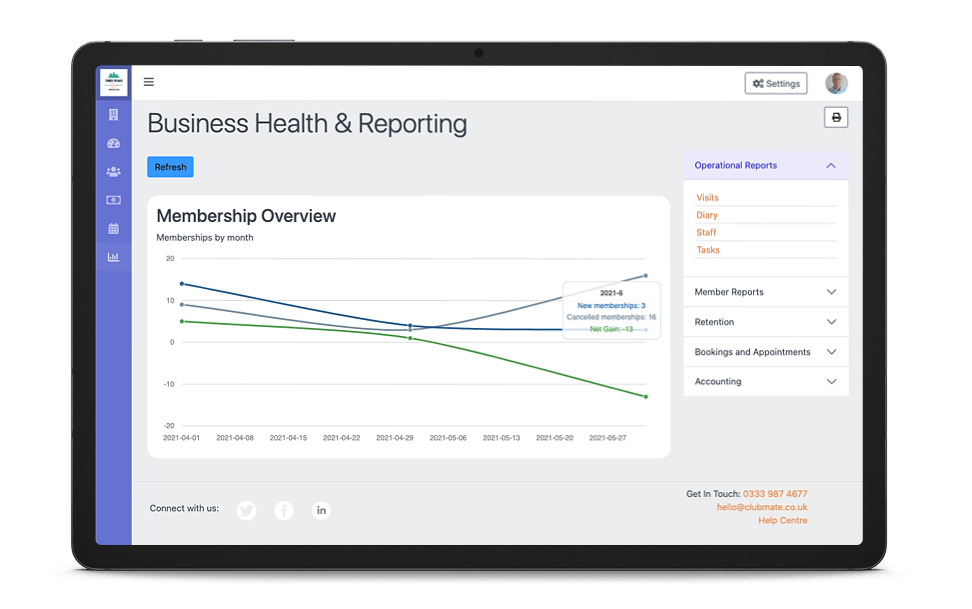 KEEP TRACK OF YOUR SUCCESS
Make data-driven decisions
Focus your time and budget on what's working best with real-time, actionable insights into how your fishery is performing, how often your anglers visit and more.
Our easy-to-use reports give you precious insights into the health of your business and provide much needed transparency of your financials.
You'll get reports on membership, product & ticket sales at the click of a button. And if you want to print them off, you can do that too.
Track attendance, repeat business and customer lifetime value
Discover where your anglers are coming from
Gain total transparency of your fisheries receivables

RIP CUSTOMER LINES. HELLO FAST CHECK-IN.
Fast, simple check-in
Whether you want customers to check themselves in, allow bailiffs to do it on the bank or manually check them in at reception, Clubmate gives you the tools to eliminate long queues and keep staff stress levels down.
Go one step further and provide secure access to your waters by connecting Clubmate with your access gates. With access control, only authorised anglers will be able to access your waters. If they haven't paid, they're not getting in! The system will auto-check them in on arrival too.
Our dedicated Check-in welcome screen offers your customers an easy-to-use and convenient solution to avoid waiting in line at reception or waiting for a bailiff to check them in.
One click check in for Bailiffs and staff
Self-service check-ins for customers with our dedicated welcome screen
Keep track of attendance and no-shows
Ideal for day tickets, memberships and tracking match attendance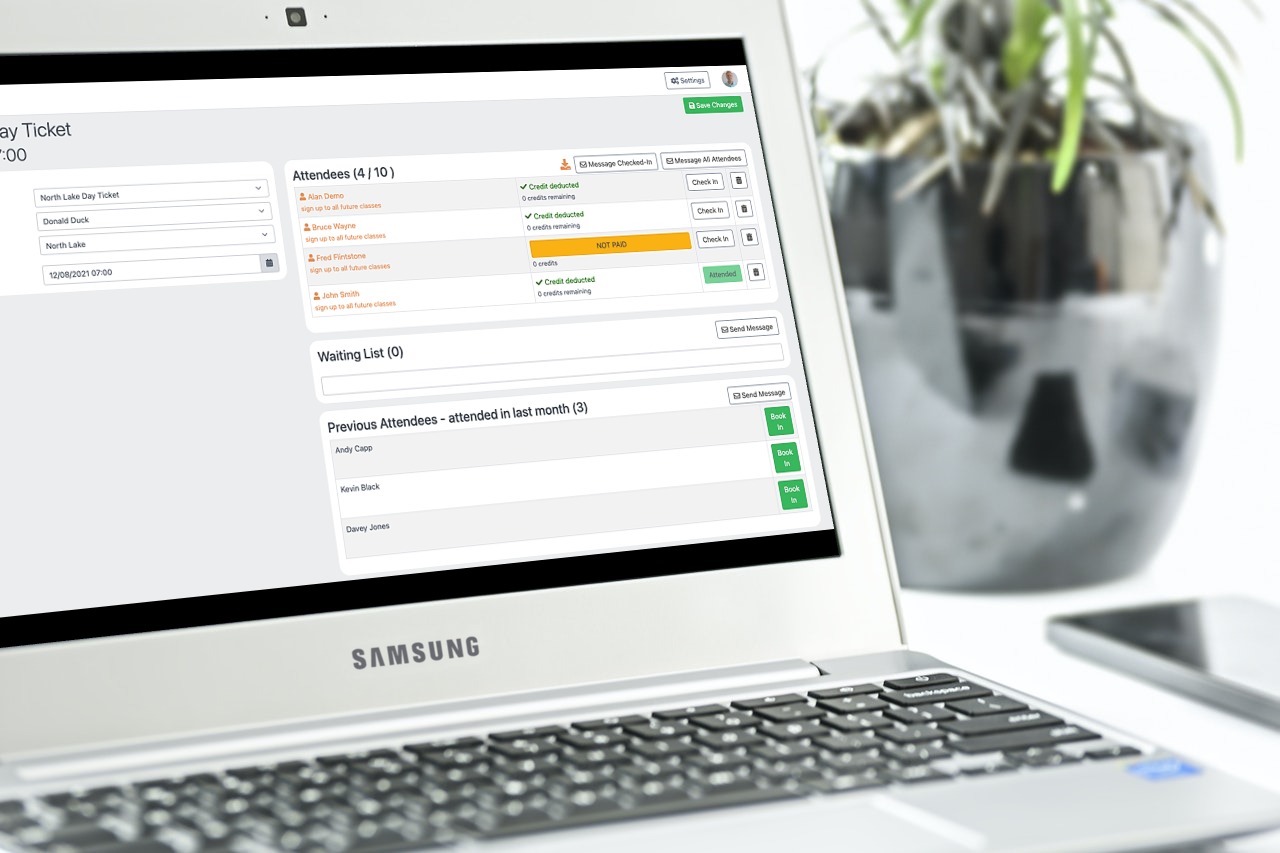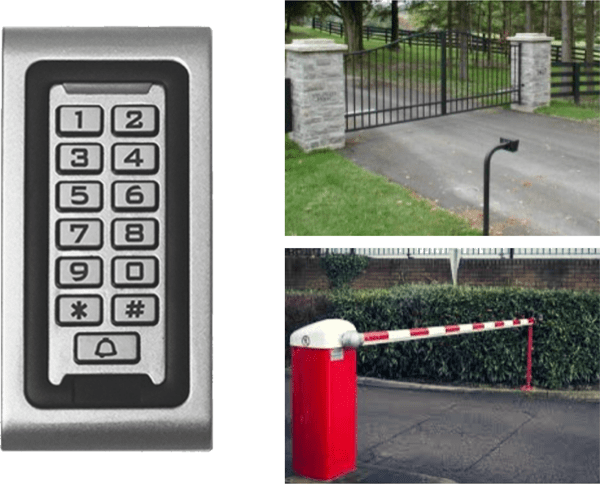 SECURE YOUR WATERS
Secure, staff-free access
Provide secure access to your waters by connecting Clubmate with your access gates. With access control, only authorised anglers will be able to access your waters. If they haven't paid, they're not getting in!
Your gate will need power and a good internet signal but you'll be able to wave goodbye to gate pin changes and faulty padlocks!
Ensure only authorised anglers are allowed in 24/7
Upgrade your ID cards with RFID chip technology or offer PIN access
Allow your gates to sync with Clubmate in real-time and monitor who accesses your facility and when

SAFE AND SECURE
Know your client info is safe
We know how important it is to look after your customer (and your own) data. That's why we make sure we keep you safe, encrypted and backed up.
Managing your fishery with Clubmate means keeping your fishery GDPR-compliant.
Reduce the risk of data breach by capturing, storing and maintaining data in a password protected, centralised database that only authorised users can access.
GDPR compliant data management
Take control of your customers data before someone else does
Stay safe with data encryption on all your information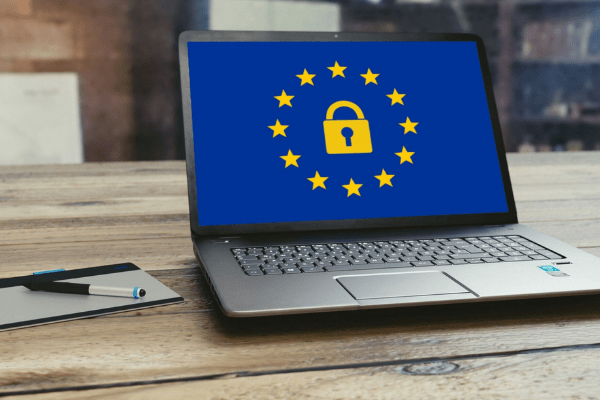 Clubmate is straightforward to use and can be accessed from anywhere with an internet connection, so everyone on our team can see how the fishery is doing and monitor membership and bookings

All of our powerful features
EVERYTHING YOU NEED TO RUN YOUR FISHERY MORE PROFITABLY
---
Clubmate App

Online Bookings

In-person bookings

Booking Bans

Membership Management

Online Memberships

Waiting List Management

Open & Closed Memberships

Till & Point of Sale

Online Payments

Bankside Payments

Manual Offline Payments

Dedicated Bailiff Access

Multi-Level User Access

Health & Safety Questionnaire

GDPR Compliance Tools

Marketing Tools

Message Automation

Single & Group Messaging

Email, Push Notifications & SMS

Sales & Financial Reporting

Access Control

Stripe Integration

GoCardless Integration

Day Tickets

Match Bookings

Member Only Bookings

Photo ID Card Service

Check-in Tools

Bankside Check-In

Self-Service Check-In

Audit Trail

Website Integration

Branding Options

Custom Fields

Castbooker Integration

Let's talk
Congratulations! If you've made it this far down the page then it's about time we start talking. Fill out a few details below and we'll get straight back to you.