Running a fishing club just got easier
Remove unnecessary paperwork, increase revenue and take back your spare time with Clubmate.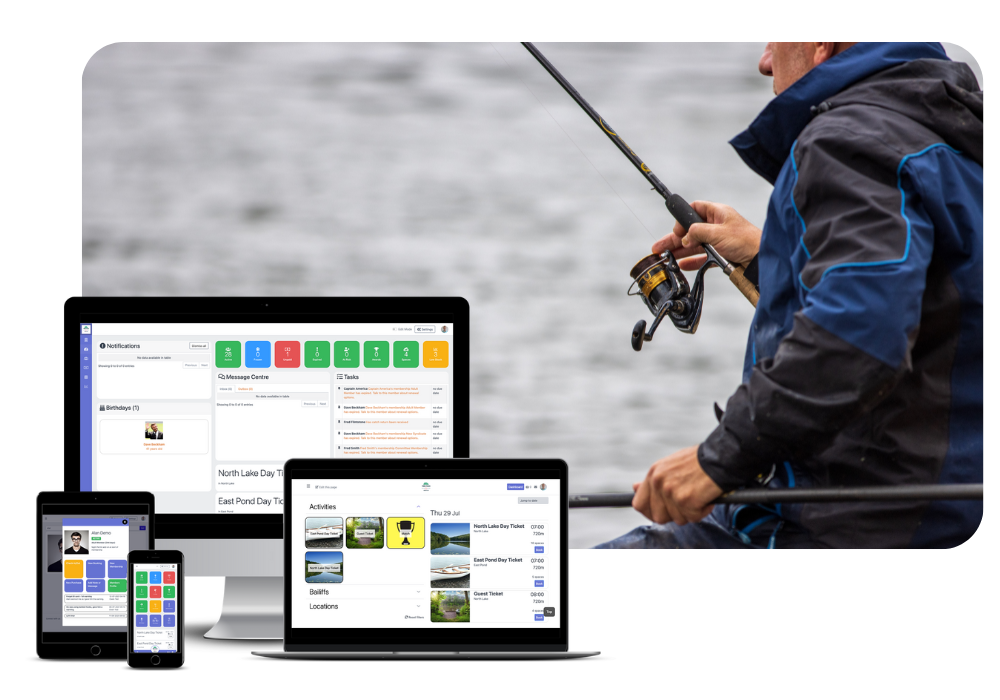 Trusted by 1500+ committee members, bailiffs, fishery managers and volunteers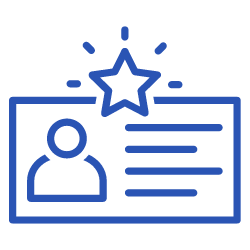 Membership Management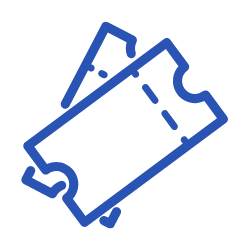 Tickets & Bookings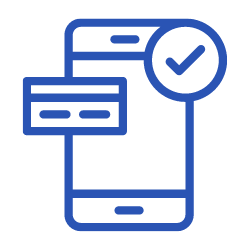 Payments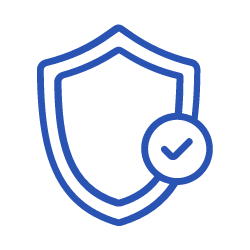 Bailiff Tools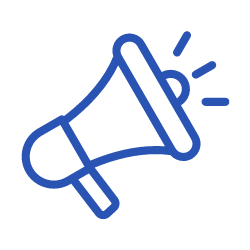 Communication Tools

LESS PAPERWORK, MORE FISHING
Fishing Club management software, created for Fishing Club volunteers
Hours of paperwork was never part of the plan when you started fishing.
Simplify the membership process for everyone involved, including members, staff and volunteers. By reducing the burden of admin and removing the barriers to membership, your club can help more people fish, more often.
Whether it's managing memberships, bailiffing your waters, taking payments or co-ordinating bookings – Clubmate has all the tools you need to manage your club from one place, anytime.
Accept online & offline memberships and automate member notifications.
Move away from spreadsheet headaches and access all member data in one secure online database.
Manage your club on the go. Wherever you have internet access, you have access to your member database.
Let your members do your work for you via their own online member profile.
Share the workload amongst your fellow volunteers, staff and bailiffs.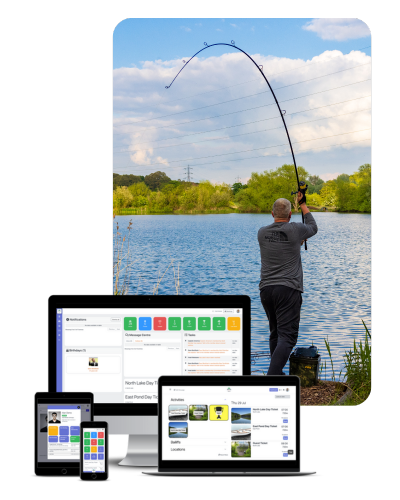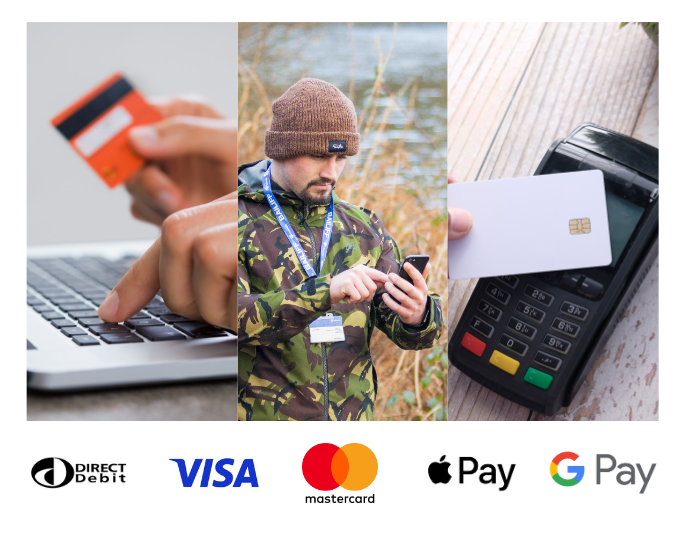 MAKE IT EASIER TO GET PAID
Payments made simple
Clubmate provides a simple process for members to pay membership fees, purchase tickets, book matches and make donations, securely online from any device, 24/7.
Online payments are automatically reconciled against each member record in your database, removing any chance of missed or duplicate payments.
Even members who prefer paying by cash or cheque can be easily recorded into the system too – the more options you offer, the faster you'll be paid.
Accept online payments by debit card, credit card and direct debit.
Real-time financial reporting highlights who has paid and who hasn't.
Take online payments for memberships, bookings, donations and more.
Online payments are automatically reconciled against each member.

The Clubmate app
ACCESS YOUR CLUB, FROM YOUR POCKET
ADMIN ACCESS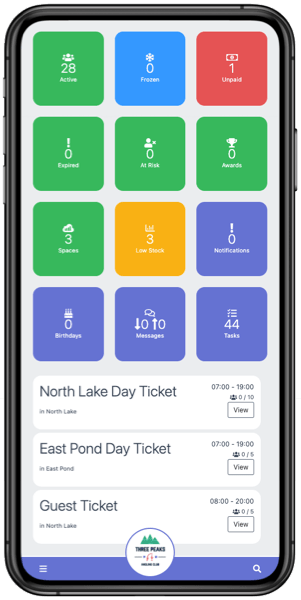 Manage your club at anytime, from anywhere
Access up to date information at the click of a button
Process memberships, sell tickets and increase revenue on the go
Reduce your workload and share access with approved committee members
BAILIFF ACCESS
Eliminate doubt and verify anglers details, instantly
Review and update disciplinary notes
Protect club waters and easily identify banned and unwelcome anglers
Bailiffs have restricted access to member data (GDPR)
ANGLER ACCESS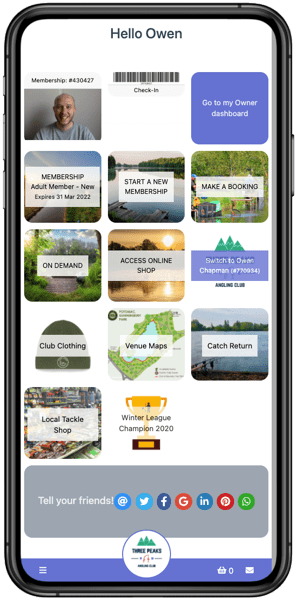 Give members the power to do your work for you
Increase retention by making it easy for a member to stay
Make club sensitive content accessible for members eyes only
Send instant communications with Push notifications



"Clubmate has saved me personally hundreds of hours and I'm now enjoying running the club rather than feeling like it's a chore. "

"
Eric Prescott, Slaugham Angling Club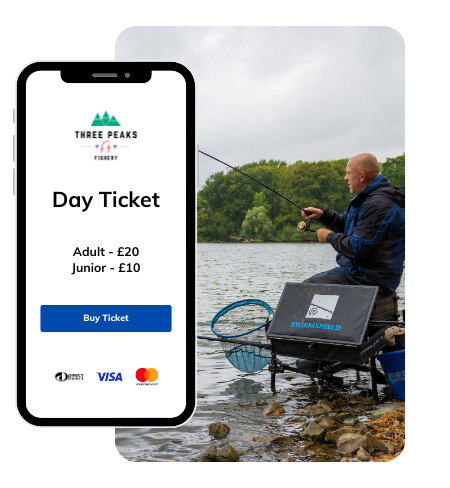 ALWAYS OPEN, EVEN WHEN YOU'RE CLOSED
Manage your diary online, 24/7
Offering members & visitors the convenience of checking availability and booking tickets, matches & events online will help reduce unnecessary admin, improve visibility of club attendance whilst ensuring a positive experience of your club.
Allow anglers to book Day, Guest, Exchange tickets online, 24/7
Offer bookings to members, non-members or both
Automatically stop selling spaces once sold out
Flexible scheduling rules & logic to suit your club
Enable members to book & make payment at any time, on any device

KEEP IN TOUCH, EFFORTLESSLY
Individual or group messages, straight from your database
Clubmate helps keep all of your contacts in one place, allowing to you to stay in touch with just a few clicks.
Send and receive messages via email and text to help keep everyone involved at your club informed of all the latest news.
Plus our message automation tool allows you to send messages to prospects, guests & members automatically based on a series of triggers and rules that you define.
Send individual or group messages direct from your member database
Save time and money on postage & stationery
Get important information to members fast
Set up automatic message templates that are triggered & sent based on specific member activity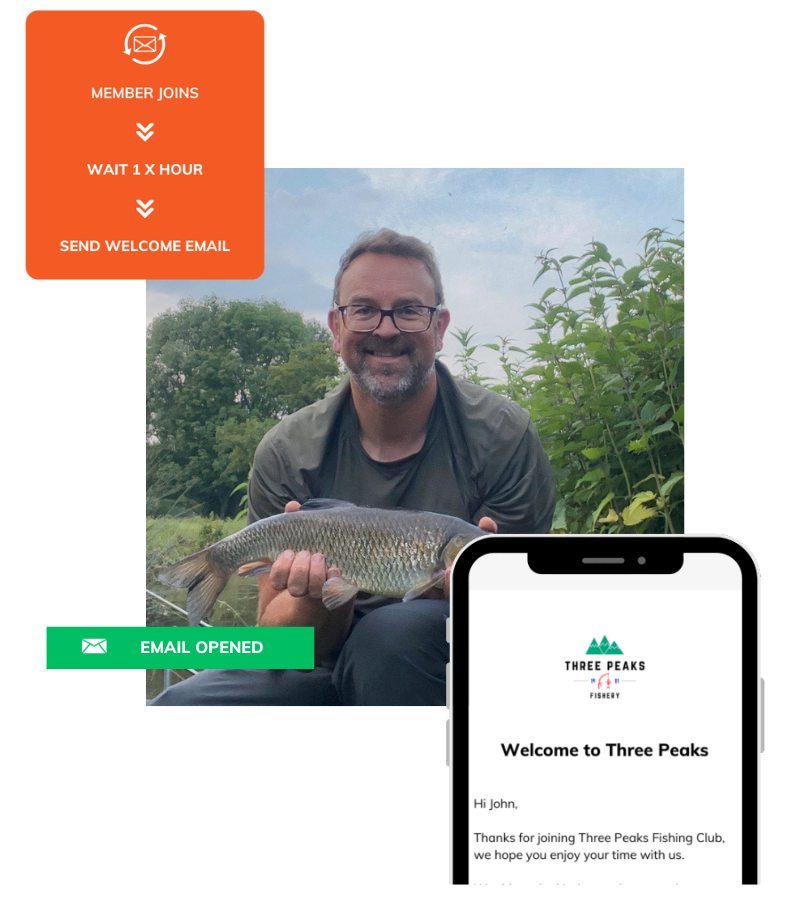 VERIFY MEMBERS ON THE BANK
Dedicated Bailiff access
Eliminate doubt by using the Clubmate Bailiff app to verify whether an angler is authorised to fish directly from the bankside.
Check their details, payment status and even their profile photo – no more insecure printed lists, no more checking in with other volunteers and no more giving the benefit of the doubt.
And if they haven't paid? Collect membership & ticket fees by debit or credit card securely on the bank.
Monitor who is authorised to fish via your smartphone
Add disciplinary notes against members records
Accept payments bankside by debit or credit card
Identify members via their profile photo
Look up car registrations on the spot

ENCOURAGE A SENSE OF BELONGING
Send proof of membership without lifting a finger (or licking a stamp)
With automatic membership confirmations being sent via email, you can provide your members with everything they need to know about your club without the cost or hassle of dealing with the post. They can also provide digital proof of membership via their Member app.
But if you're looking to increase member loyalty, provide a greater sense of belonging or would simply prefer your members to have a physical proof of membership on them (that actually fits in their wallet) then our outsourced photo ID card service is the perfect solution.
Club branded Photo ID cards sent direct to the members door
No more passport photos, self-addressed envelopers or licking stamps
Photos uploaded via members profile when they join.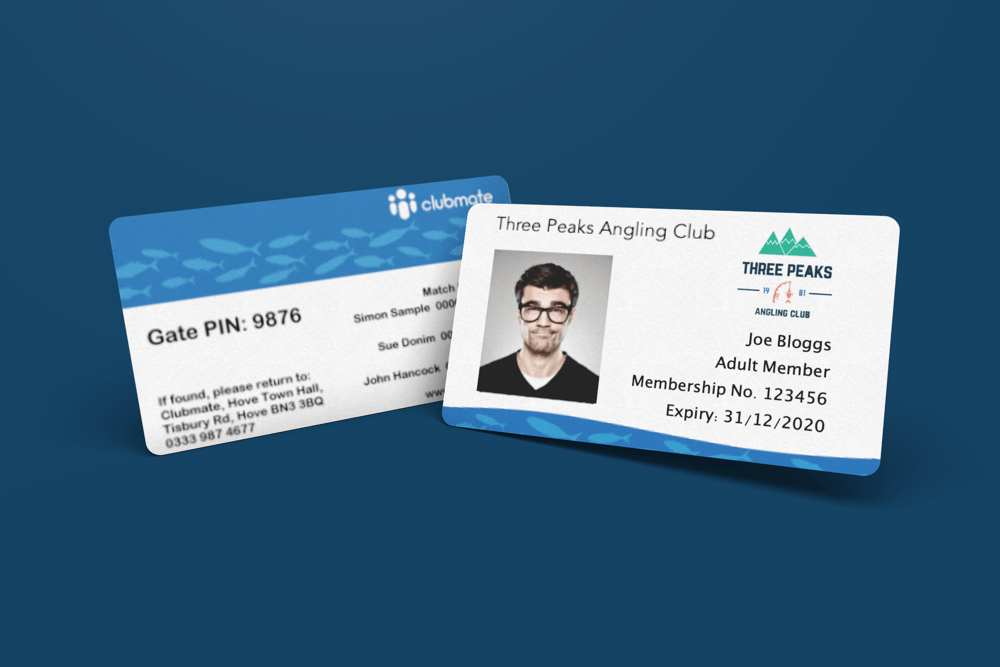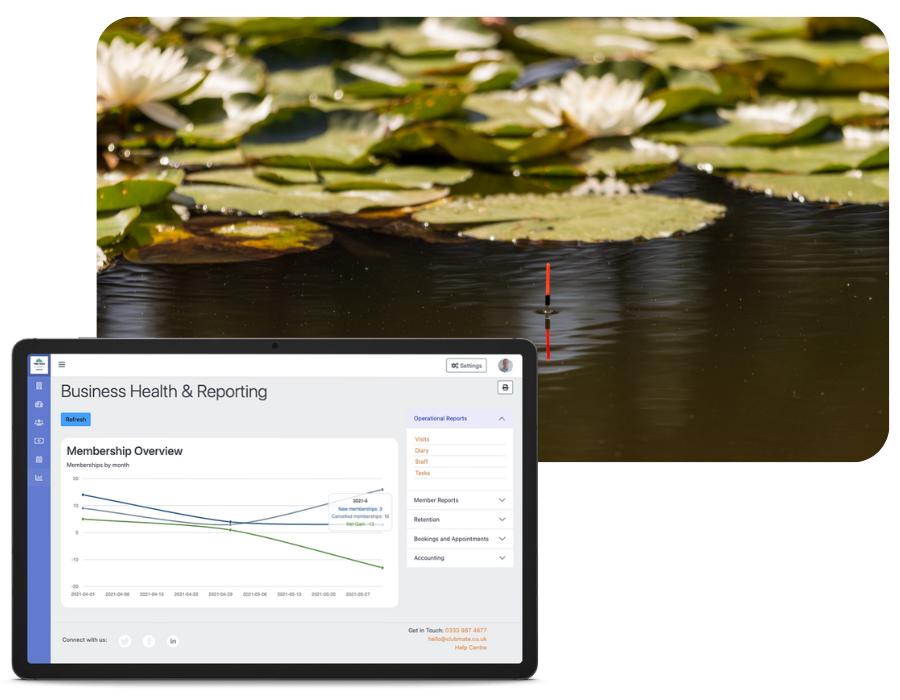 KEEP TRACK OF YOUR CLUBS SUCCESS
Simple, powerful reporting
Want to keep an eye on how your club is performing? Wondering how many members you've got? Or how much money you've collected?
Our easy-to-use reports give you precious insights into the health of your club and provide much needed transparency of your financials.
You'll get reports on membership sales, payments & bookings at the click of a button. And if you want to print them off, you can do that too.
Track all payments – successful, failed and overdue, in real-time
Keep on top of member analytics
Ensure total transparency of your clubs finances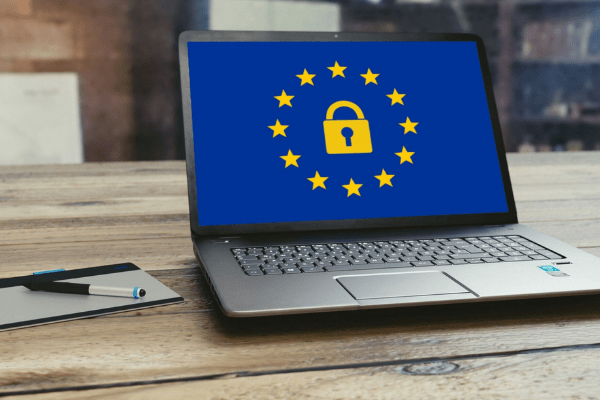 MEMBER DATA, PASSWORD PROTECTED
Keep your club and your members secure online
You and your members care about data protection. And so do we.
Managing your member database with Clubmate means keeping your club GDPR-compliant.
Reduce the risk of data breach by capturing, storing and maintaining member data in a password protected, centralised database that only authorised users can access.
GDPR compliant data management
Take control of your customers data before someone else does
Reduce risk of data breaches

"If you're thinking of getting started with Clubmate, just do it. It's been of the single best decisions we've made in our 130 years of running. It covers all of our needs, including bailiffing, night permits, fly tickets and proof of membership. You won't regret it!"

"
Roy Sutton, Burton Mutual Angling Association

All of our powerful features
EVERYTHING YOU NEED TO RUN YOUR CLUB MORE EASILY
---
Membership Management

Online Memberships

Online Bookings

Clubmate App

Online Payments

Manual Offline Payments

Bankside Payments

Stripe Integration

Photo ID Card Service

Dedicated Bailiff Access

Task Management

GDPR Compliance Tools

Single & Group Messaging

Message Automation

Customisable Email Templates

Email, Push Notifications & SMS

Unlimited Membership Plans

Customisable Member Portal

Member Only Content

Promo Codes

Financial Reporting

Access Control

Awards & Accreditations

Castbooker Integration

Day Tickets

Guest Tickets

Exchange Tickets

Booking Bans

Till

Capped Memberships

Member Groups

Audit Trail

Website Integration

User Notifications

Custom Fields

Health & Safety Questionnaire

Clubmate in numbers
275+
Active Fishing Club & Fishery Clients
£7.7m
Value of memberships & tickets processed via Clubmate each year
75k+
Number of memberships & tickets purchased via Clubmate each year
Begin your Clubmate journey here
Fill out your details below and we will be in touch as soon as possible.