Manage your club all in one place
Use Clubmate to centralise your club management, giving key volunteers access to the information they need, when they need it.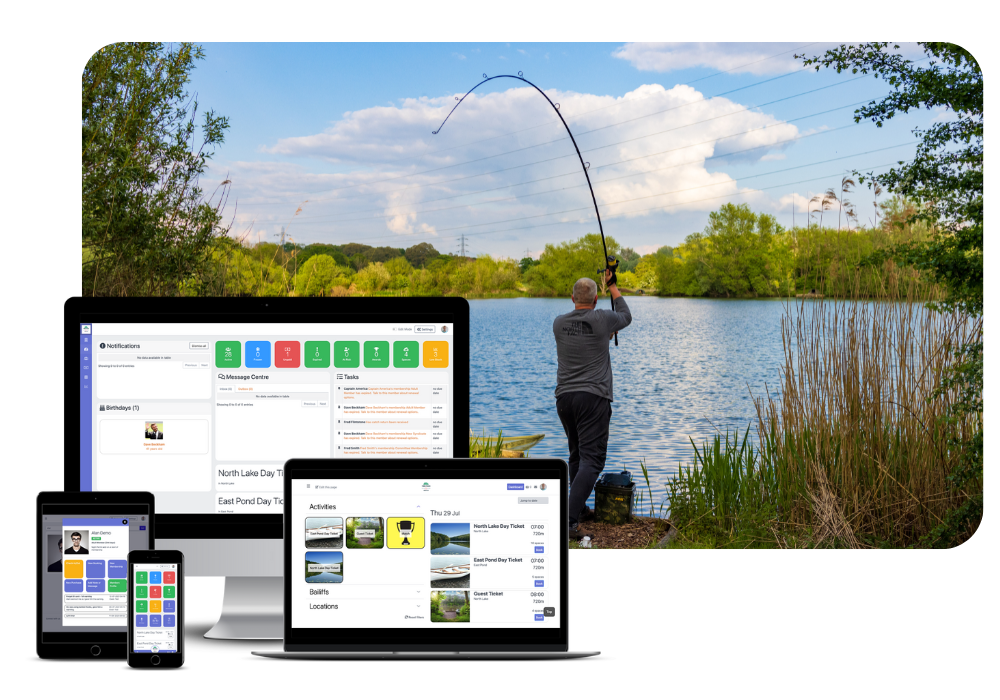 LET YOUR MEMBERS DO THE WORK
Membership Secretary
The days of deciphering members' handwriting and following up with unsigned cheques are over. Reclaim your spare time and start empowering members to do the work for you. 
Clubmate allows your members to join, renew and update their details online 24/7 with no manual intervention. To save you time, we've made it easy to track who's joined and who's paid at the click of a button. You can also record cash and cheque payments for those members who prefer more traditional methods of paying and manage everything from one secure place.
Keeping your members updated has never been easier. Use Clubmate to send membership communications via email, text and push notifications – including personalised reminders to lapsed members, emails encouraging prospective members to join and inviting waiting list attendees to buy a membership.  
Sending out proof of membership in the post? We can help with that too.
Centralise all of your member data in one place

Stay open 24/7 and empower members to do your work for you

Offer online payments by debit card, credit card and direct debit.

Send group communications to prospective, active or lapsed members

Manage both online and paper-based memberships from one dashboard

Outsource fulfilment of ID card, handbooks, proof of membership delivery

Save time on admin so you can spend more time fishing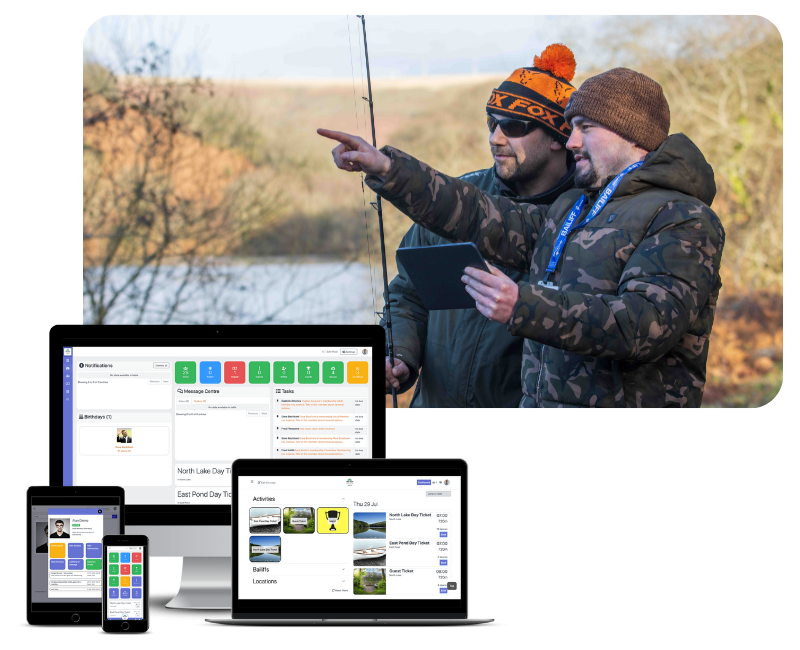 MAKE IT EASIER TO GET PAID
Treasurer
Clubmate provides a simple way for members to pay membership fees, purchase tickets, book matches and make donations securely online from any device at any time. 
Online payments are automatically reconciled against each member record in your database, removing any chance of missed or duplicate payments. You'll also have access to a full audit trail that allows you to identify who's paid and who hasn't – meaning no more rifling through paperwork or scrolling through spreadsheets.
Even members who prefer paying by cash or cheque can be easily recorded into the system too – the more options you offer, the faster you'll be paid.
When it comes to monthly committee meetings, AGMs and auditing, you'll have instant access to reports on membership sales, payments, bookings and more at the click of a button (and you can print them off too!). 
Accept online payments by debit card, credit card and direct debit.

Real-time financial reporting highlights who's paid, how they've paid plus

who hasn't.

Take online payments for memberships, day/guest tickets, bookings, donations and more.

Record all offline payments including cash, cheque and bank transfer.

Spend less time chasing payments and more time fishing.

KEEP IN TOUCH, EFFORTLESSLY
Secretary
Hours of sorting through paperwork and answering countless messages were never part of the plan when you joined the club's committee. 
Simplify the administration process for everyone involved, including members, staff and volunteers. Reducing the burden of admin and removing the barriers to buying a membership means that your club can focus on getting more people fishing, more often.
An engaged membership base is a loyal membership base, which is why Clubmate gives you instant access to all of your members in one place, allowing you to stay in touch with them in just a few clicks. Send and receive messages via email, text and push notifications to help keep everyone at your club informed of all the latest news, while eliminating unnecessary postage costs.
Provide regular club updates to members with group emails, text and push notifications 

Maintain club governance and ensure all members are aware of and agree to club rules and policies 

Switch to electronic newsletters – save club funds and save trees!

Keep all of your club's sensitive member data secure, in one place and accessible from anywhere.
Don't just take our word for it



VERIFY ANGLERS ON THE BANK
Bailiff
Keeping members and club waters safe from harm is vital for any successful fishing club, which means regularly patrolling your waters and checking in with anglers. 
But how can you tell if an angler is authorised to fish? By checking a membership card? Asking for their handbook? What if they've forgotten to bring them – or worse – lost them?
Eliminate doubt by using the Clubmate Bailiff app to verify whether an angler is authorised to fish directly from the bankside. Check their details, payment status and even their profile photo – no more insecure printed lists, no more checking in with other committee members and no more giving the benefit of the doubt.
And if they haven't paid? Collect membership & ticket fees by debit or credit card securely on the bank.
Monitor who is authorised to fish via your smartphone 

Add disciplinary notes against members records

View upcoming bookings & be prepared for attendees 

Accept payments bankside by debit or credit card

Identify members via their profile photo

Look up car registrations on the spot

GUARANTEE LONG TERM SUCCESS
Chairman
As club Chairman, it falls on your shoulders to make sure your fishing club runs smoothly and will be around for anglers to enjoy for many years to come. Succession planning is everything, but that can be difficult when you're relying on one or two key volunteers to do all the work. What if they're no longer around? Who would step up?
With Clubmate you can introduce a centralised system that helps bring all of your clubs' admin processes into one place. Your current volunteers can share their workload more easily and future volunteers can seamlessly take on the work as needed.
Use Clubmate's Reports dashboard to gain full visibility of everything going on at your club in real-time. Detailed reporting on membership sales figures, bookings and more allow you to make faster informed decisions on how to grow your club and best serve your members.
Clubmate offers an end-to-end solution that allows you to future-proof your club and remove dependence on individuals. Boost productivity by offering your volunteers an online management solution that they can access from anywhere with an internet connection.
Generate more income by attracting new members and retain them for longer by providing them with a seamless member experience that caters to everyone – whether they prefer to pay online or using the traditional method of cash and cheques.
Explore other avenues to generate additional income such as selling branded club merchandise and converting day ticket holders into full membership holders. Increased revenue means increased opportunity to grow your club, by investing in stocking programmes or acquiring new waters.
Generate new & additional income into the club 

Enhance the image of the club & reach further into your community

Attract new members and retain existing ones for longer 

Secure the long term future of your club

Help get more people fishing, more often (including fellow volunteers!)

TRACK ATTENDANCE IN ADVANCE
Match Secretary
Getting anglers to attend matches doesn't need to be complicated. Clubmate allows you to notify your members of upcoming matches via email, text and push notifications, ensuring they never miss a match again. Anglers can then confirm their attendance in advance – online or offline. Use Clubmate to manage confirmed attendees and continue to keep them up to date with match details.
You'll then be able to accept payment for match fees by credit or debit card, before or after the match. You can even allow variable fees based on membership status to maximise revenue from hosting matches at your waters.
Allow match anglers to confirm their attendance in advance – online or offline

Accept payment for match fees by credit or debit card before or after the match

Offer club members only matches and open matches

Allow variable fees based on membership status

Send individual or group communications to match participants only 
Let's chat
Fill out a few details below and one of our fishing club specialists will be in touch