Did you know that it takes about 600 years for heavy monofilament lines to break down in a landfill?
Clubmate is proud to announce our support of the Anglers National Line Recycling Scheme: a scheme that gets anglers, fisheries, tackle shops and manufacturers involved in recycling discarded or lost fishing lines to protect the environment, wildlife and the image of the angling community.
Since its launch in 2018, the ANLRS has collected over ten million meters of used fishing line from anglers. Their goal is to make it as easy as possible for anglers to recycle their lines instead of discarding them on the banks, where they'll most likely end up in a landfill or being incinerated – neither of which are good for the environment.
In an initial trial of ANLRS Pipe Bins across a mile of the Sussex coastline, over 165kg of discarded fishing line and net fragments were collected from three pipe bins in three weeks – a very worrying figure that highlights just how crucial line recycling schemes are to preserve our environments.
To date, there are over six hundred ANLRS bins located at tackle shops, fisheries, sea fishing venues, charter boats and marinas, as well as at organisations beyond the angling sector such as RSPCA wildlife centres, sea-life centres, two marine reserves and some hotels that offer fishing to their guests.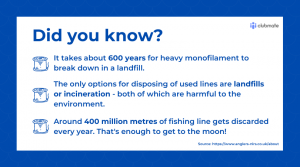 As a volunteer-led, solely donation-funded scheme, the ANLRS is keen to work with a variety of organisations that want to safely discard aquatic plastics so that we can get they can spread the word of their mission across the UK. That's why Clubmate will be donating 50p to ANLRS for every order placed of our eco-friendly club clothing.
Clubmate's mission is to get more people fishing more often but to do that, we also need to do our part in making sure we continue to make angling sustainable so that we can look after the environment. The next generation of anglers depends on it.
Your angling club can get involved quickly and easily by filling in the ANLRS registration form. Many clubs that are already partnered with ANLRS are offering an incentive to their members to recycle their old lines, such as discounts on new line purchases, free spool stripping, free re-spooling or even a free cup of tea! Incentives aren't compulsory, but it's a fantastic way to encourage your members to do their bit for the environment.
More information on how your club can get involved with the Anglers National Line Recycling Scheme can be found here.