Clubmate vs PayPal:
Which is right for your fishing club?
Online payments allow anglers to pay membership fees, purchase day and guest tickets and make donations securely from any device at any time.
If a fishing club decides to start taking payments online, they often look to something like PayPal as their payment provider because they're one of the biggest in the world and a household name. But do they really offer a comprehensive solution for fishing clubs and fisheries?
To answer that question, we've highlighted the key differences between PayPal and Clubmate so that you can figure out which solution is right for your club.
Online Joining
Having a solution to accept online payments is a step in the right direction, but we often see clubs introducing systems like PayPal and still spending a lot of valuable time on their club admin. 
When an angler wants to join a fishing club that uses online payments, the usual process goes something like this: a prospective member shows interest in joining, fills in a joining form (paper-based or online) and provides them to the club with a passport photo for their membership card. Then they'll be prompted to pay online through the club's PayPal merchant portal. Once the club has received the payment, they'll need to manually log it somewhere, reconcile it with the member form, manually create the membership card and send it off in the post. They'll often manually send a one-off email to the member too, confirming the details have been received.  
Whilst this process can work, it's reliant on the member providing all the right information in the right way, at the right time. It also requires the club officials to keep on top of the admin and ensure everything tallies up. And that's if everything goes to plan!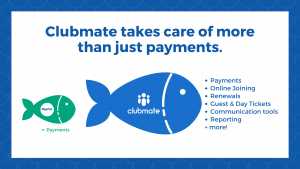 With Clubmate, it's easy for anglers to join and pay in one go. The fully-automated membership process makes it simple for members to join your club at their convenience and get fishing sooner. Members can sign up, agree to your rules, upload their details, choose their membership and pay from anywhere at any time. Confirmation emails are sent automatically and if you use our ID card service, we'll automatically send your member a professional ID card to their home address. Whilst PayPal can help you achieve some of this, it's not fully automated. Without a management system in place, you'll still need to manually make a record of the purchase and send them the membership forms in the post.
What's more with Clubmate, whenever a member joins or renews online, the database is automatically updated, so there's no need to manually update the system yourselves. You can easily search and share access to your database, meaning volunteers can manage the club efficiently using their own logins. 
Members can even manage their own details through a secure member login area, which empowers them to take control of their memberships and reduces the admin burden on your club. Their data is safe, secure and automatically backed up. No more out of date spreadsheets!
Member Communications
Communicating with your members can be time-consuming and labour-intensive, especially if you're operating from a list of phone numbers and email addresses. With Clubmate, you have one centralised database that securely stores your members' contact information – whether they joined your club in person or online. You're able to send customised emails or SMS text messages to everyone, individuals or selected groups in just a few clicks.
In contrast, PayPal's communication features are minimal: your customer will get an automatic, PayPal-branded email to confirm their payment and another email if their payment fails. If you needed to send an email to all of your members, you'd need to export a list of names and email addresses from PayPal and put it into your chosen email software. It'll be even more time consuming if you wanted to contact just one of or a small group of individuals on the exported list!
Payments
Just like PayPal, Clubmate accepts online payments by debit card, credit card and direct debit through a secure online portal. Any online payments made are automatically reconciled against each member record – which is a manual job if you use PayPal.
Not every member will want to use online payments, and would prefer to continue paying for their membership in the traditional way – and that's fine! However, if you use PayPal to collect online payments, it can be a long process to make sure you're keeping track of the payments made online and the payments made by cash and cheque. 
Conversely, Clubmate gives you the ability to keep track of all payments – whether cash, cheque or card – in one place. Because Clubmate automatically reconciles the online payments against each member record, you only need to worry about logging members that pay by cash or cheque. Most people are happy to adopt paying online, so the number of members paying by cash will decrease over time.
There's also a difference in the cost per transaction, which is a charge that a business has to pay each time it accepts an electronic payment. Depending on which payment processor you use, it can be charged as a percentage of the transfer amount or with an additional fixed cost.  PayPal for Business starts at a 3.5% transaction fee, which is 1% more than Clubmate's transaction cost.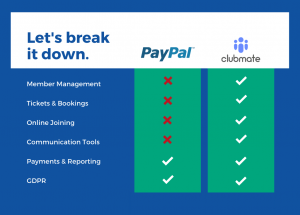 Reporting
PayPal offers a handful of good reports, some of which include monthly statements, financial summaries and sales reports. This is fine for a basic overview, but what happens when you need to print out a retention report for this month's committee meeting?
In contrast, Clubmate offers a whole host of simple (and printable!) reports on club analytics such as membership growth and retention rate, plus financial reports to help you keep on top of finances (for all members, not just those who paid online). We appreciate the pressures of running a fishing club or fishery, so we wanted to make it as easy for you as possible to understand how your organisation is performing.
In summary…
The truth is that you can't really compare PayPal to a system like Clubmate, simply because Clubmate is a full member management system. Our software has been designed specifically with fishing clubs, fisheries and anglers in mind.
If you're considering setting up a PayPal for Business account, we would encourage you to think about the benefits and return on investment that you're expecting.
Are you looking for a solution that just allows you to take online payments? Or are you looking for a solution that takes care of more than just payments, something that makes club management easy and improves member experience?
Remember, if you're looking for a centralised database that offers the full package of member management, online joining, payments, bookings, communications and reporting, then Clubmate is the solution for you. Make an enquiry today!