Happy New Year! We can hardly believe it's 2021 already.
2020 was certainly a challenging year for us all, so we wanted to take this opportunity to thank our readers for all of your support over the past year. It truly means the world!
If you're new around here, welcome! Clubmate is a club management software that has been designed to significantly reduce the time that membership secretaries, treasurers and club volunteers spend on mundane admin jobs while growing participation and revenue at the same time. We use our blog to share tips, tricks and tutorials on how you can run your club more efficiently, drive revenue and improve the member experience.
It's the time of year where we're all setting new year's resolutions and thinking about what we'd like to do better in 2021. But have you considered thinking about what resolutions you can set for your fishing club this year? What can you do to improve the operational side of your club and enhance the member experience?
Lucky for you, we have an answer. 
In our first post of the year, we've summarised the areas of your club operations that you can evaluate right now and how Clubmate can help.
Optimise Club Operations
Introducing an online system to help manage your fishing club is one of the best decisions you could make in 2021. Imagine how much time you could save by having all of your member records, membership/ticket purchases and reports in one place!
We might be a little biased, but Clubmate is the ultimate software to help reduce the admin burden while increasing membership and ticket sales. Our software is proven to have helped clubs accelerate their income; one of our users even reported a 300% surge in revenue in under a year of using Clubmate.
Using a cloud-based solution allows you to keep all of your information safe and accessible for your team. Your members even have access to their own portal, which empowers them to take control of their membership renewals and additional purchases, such as club merchandise. Clubmate allows you to accept payments online, which helps you to get paid faster – more on that below!
Comply with COVID-19 Regulations
If you're reading this post when it was uploaded, the UK are currently in a third national lockdown to help control the spread of Coronavirus. Thankfully, the Angling Trust confirmed in early January that angling clubs were allowed to remain open on the basis that they adhere to the rules on staying local, gathering limits, social distancing and limiting the time spent outdoors (see further information on those guidelines here).
It's important to have a process in place to minimise physical contact with and keep track of members, ticket holders and match attendees as they return to fishing in a safe environment. Without the right process in place, doing all of the above can be stressful and time-consuming (at what's already a stressful time for everyone!), so finding a system that's reliable and simple to use is key.
With Clubmate, you can collect payments online – from membership fees to tickets costs – so you'll be minimising physical contact with anglers. Our track and trace feature provides you with an instant breakdown of everyone who has attended your venue or event on a given day. Meaning if an attendee notifies you that they are experiencing symptoms or have tested positive for COVID-19, you can quickly identify anyone else that attended your venue at the same time, access their contact details and reach out to inform them.
Keep Members Engaged
Without a centralised system, it can be tricky to contact your members to inform them about the latest news at your club. Usually, membership secretaries will keep contact details of members or ticket holders in a spreadsheet and send out communications on an individual basis. Again, this can be a time-consuming process. 
With Clubmate, communicating with your members couldn't be easier. You can send email or text messages to all of your members, specific groups or even on an individual basis. Records of each communication are kept within the Admin area, so there's clear visibility for the rest of the committee.
Keeping members engaged through regular communication will increase retention and makes it simple to keep your members up to date with the latest club news – which is important now more than ever. What's more, Clubmate makes it straightforward to follow the GDPR regulations surrounding data processing and digital communications.
Get a website
Having a website for your club is a necessity in 2021. It shows credibility and allows people to find out everything they need to know about your venue before they visit. A website is also a key tool for marketing your club. People will look to search engines like Google when they want to find something or learn more about something, so getting your website to appear in search engine listings is a great way to boost awareness and spread the word about your venue.
Plus, having an online joining system linked to your website means that customers don't have to make an enquiry about buying a membership and waiting for a response from a club volunteer – they can do it then and there online. Your fishing club deserves to have a website that showcases your venue in the best possible way, which is why Clubmate offers modern, mobile-friendly websites that are designed specifically with the angling community in mind. Take a look at one of our websites here and see for yourself.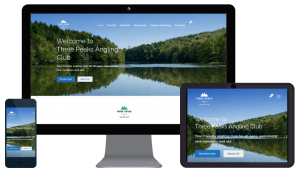 Venue Maps
Having a map for your venue makes it a whole lot easier for anglers to explore your waters. Instead of explaining to each new visitor how to find their way around your venue, you can simply direct them to a professional fishing map that clearly displays your venue access points, fishing access, swim numbers, facilities and more. 
Clubmate's customised venue maps help you take back the time that would usually be spent answering repetitive questions so that you can focus on the fishing. The goal is to improve the angling experience through convenience. Take a look at our custom fishing maps here.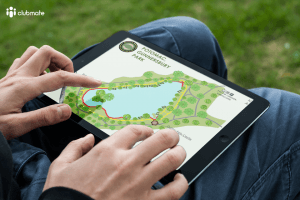 Club Merchandise 
Club merchandise is a great way to generate extra revenue while maximising exposure for your fishing club. Every piece of clothing that's purchased and worn by your members contributes to positive reinforcement for your club. Plus, it helps your anglers feel like they're truly a part of your fishing community.
Not only does Clubmate offer software, venue maps and websites, we also take care of club merchandise for you too. It's completely free to get started and we've made sure each step is hassle-free: no setup fee, no design fees, no minimum order and no holding stock at your club. We'll even pay you a 10% commission on every order!
In conclusion…
There are a number of things that you can do to improve the running of your fishing club. However, trying to tackle all of these things at once can feel a bit overwhelming – especially if you're concerned about sourcing everything from several different suppliers and spending a lot of money. 
Fortunately, Clubmate is an affordable, end-to-end solution that has the power to transform your club overnight. We have all of the tools you need to run a successful fishing club that delights its members and brings together the local community. 
Fancy getting started? Reach out to one of our product experts today!