Anglers will often want to see what the venue is like before committing to join a club for the season or even before buying a day or guest ticket.
Having great quality photos on your club website is a fantastic way to stand out amongst the crowd and showcase what your waters have to offer. After all, club and fishery owners are understandably proud of the effort that goes into running and maintaining their venues – so it's worth showing them off!
Our Customer Success Executive, Owain is here to talk you through how you can get high-quality photos for your fishing club website and social media channels.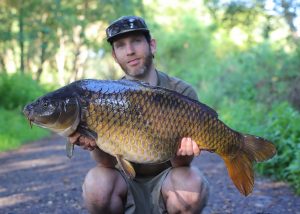 Hire a photographer.
Hiring a professional is a fast way to get some stunning photos of your waters. It may seem like an unnecessary expense, but your club's online appearance has a huge impact on an angler's spending decision. The photographer will have access to the right equipment too, such as drones and other expensive camera gear.  Plus, hiring a photographer will save you time because it's one less job for you to take care of. The better the photos, the better the chances of anglers liking what they see, so it'll be a positive return on investment.
Use your members as a resource.
Members and regular visitors are valuable resources for photo content. It's more than likely at least one of your anglers will have a passing (or hopefully professional) interest in photography. Offering a free membership for the season or something similar as a thank you gesture in exchange for photos is cheaper than hiring a photographer, and much better than having mediocre photos of your venues – or worse – none at all. One of your members might even have an interest in drone photography or videography, that offers a unique perspective, in turn, making your venues more tangible and attractive to prospective members.
Catch photos are a valuable marketing resource because anglers can see the success of other anglers that have fished at your venue. Again, members can be a valuable resource here and will usually be happy to share photographs of their captures to be added to your website or social media channels.
Source images from local online groups.
Local photography groups on social media are a great place to find stunning images by local photographers. There are also dedicated websites for photographers to upload their work, such as Flickr, which allows you to search images by location. If your venue is in a public place, it's likely someone somewhere has taken some photos there and they might be willing to allow you to use their images on your site – if you send a polite message requesting permission first.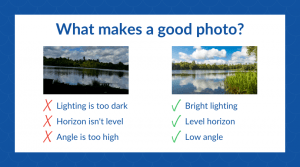 Take your own photos.
It is possible to take your own photos if you're up to the challenge – and you don't need lots of expensive equipment either. Most modern smartphones have outstanding built-in cameras that will allow you to take some high-quality images yourself.
Tips for getting good quality images on a smartphone:
Aim to take photos in the spring or summer when the weather is bright. Venues usually look their best with a bit of blue sky, sunshine and greenery. Autumn and winter photos can be equally as beautiful, but photos taken in warmer weather tend to be more inviting.

Keep the horizon level in the photo.

Getting low to the ground when you take your photo makes for a better angle.

Consider where the light source is and try not to shoot into direct sunlight to avoid glare.

Always take lots of photos from lots of different angles, then review them and pick the best ones. It's better to have too many and not use all of them than have too few and use none of them!

Morning or evening is generally best for photography as the light is better.

Read up on the photography basics such as the rule of thirds and other compositional rules. There are plenty of free resources available online that will help you take some beautiful photos.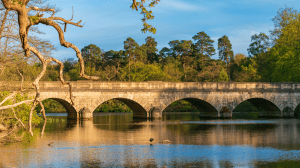 (taken on a smartphone 👆)
To summarise, there are plenty of easy ways to get high-quality photos for your club website and social media pages. Which method you choose will depend on how much time you can dedicate to photography; if you find yourself with little spare time to take photos then hiring a photographer might be the way forward. However, if you want more control over the photographs then spending an afternoon taking your own photos might be the more appropriate solution. You can even use a blend of these processes to ensure there's a wide variety of photos on your site, which gives you a better chance at bringing more anglers in.
Clubmate is an online management software designed specifically for fishing clubs and fisheries that allows you to remove unnecessary admin, save money and take back your spare time. Complete with online joining and Bailiff, Angler and Admin Apps, Clubmate can also help you attract new members, guests and customers with our website building service. For more information, book your free online demo or give us a call at +44 (0)333 987 4677.
As a Customer Success Executive, Owain is responsible for onboarding clubs and fisheries to Clubmate and delivering product training for our users; making sure they start reaping the benefits of using the system as swiftly as possible.
In his spare time, Owain acts as a Treasurer on his local fishing club committee and has experienced first-hand how Clubmate can help transform a fishing club. If you'd like to learn more about Clubmate and how it could benefit your fishing club, please get in touch (we don't bite!):
Tel: 0333 987 4677
or click Book a Demo, leave your details and we'll call you!