We're excited to introduce you to the newest member of the Clubmate Team, Ian!
Ian joined the team at the beginning of the year and he's hit the ground running as our newest Account Executive. He's been hard at it speaking to fishing clubs, fisheries and syndicates about what Clubmate can do for them.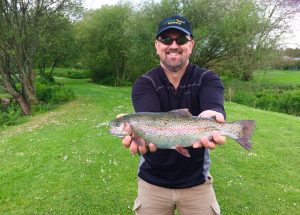 Get to know Ian
"I started fishing at about four or five years of age (as many of us did), fishing local canals and still waters around in and around Leicestershire. I've many fond memories of saying, 'One last cast please Dad!' as the light fades… which usually meant we'd be packing up in the dark! I've carried on fishing ever since, alongside work and family life.
"When people ask me what my favourite style of fishing is, I always say it's a tricky one to answer because I'm fortunate enough to live in Hampshire where there are river stretches, great still waters and the beautiful coast on my doorstep, so I've got plenty of options depending on what I feel like fishing that day. With that being said, you'll normally find me trotting a stick float on the River Whitewater, occasionally in my bivvy hunting carp, lure fishing for Perch and Pike and the occasional beach fishing trip at our holiday home on Hayling Island. Fishing is absolutely my getaway from life's challenges and pressures, which I'm sure many of us can relate to.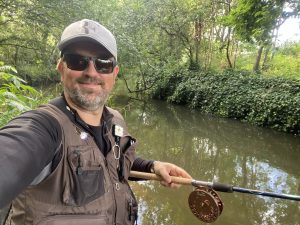 "As for my background, I worked in the automotive industry for several years in account management and sales, but I decided on a career change twelve months ago when I decided to set up my own woodworking business which I run part-time. I make bespoke items from reclaimed whiskey barrels – so if you're in the market for a unique handmade gift, drop me a message!
"I'm excited to join Clubmate and combine my account management skills with my passion for fishing. What a perfect mix!"
It's great to have you on the team!
Ian is fully up to speed on Clubmate and has already started helping clubs & fisheries move their operations into the 21st century. Get in touch with Ian if you'd like to learn more about Clubmate, organise a demo or chat about fishing!
Contact Ian
Email: ian@clubmate.co.uk
Mob: +44 (0)7931852830