Clubmate vs Doing It Yourself: How to Modernise Your Angling Club
We speak to hundreds of fishing clubs every week and one thing that we see frequently is committees that do everything themselves.
Running the club, collecting payments and increasing revenue are all important responsibilities and many clubs are still using multiple systems for each of these tasks; such as a spreadsheet to keep track of members, a single email account to send out information, Paypal to collect fees and more.
Whilst it's possible to manage your club using all of these different systems, it's not always the most secure or efficient solution.
To show you how much simpler things can be, we're breaking down the differences between using several different tools versus just using Clubmate to manage, market and drive your angling club.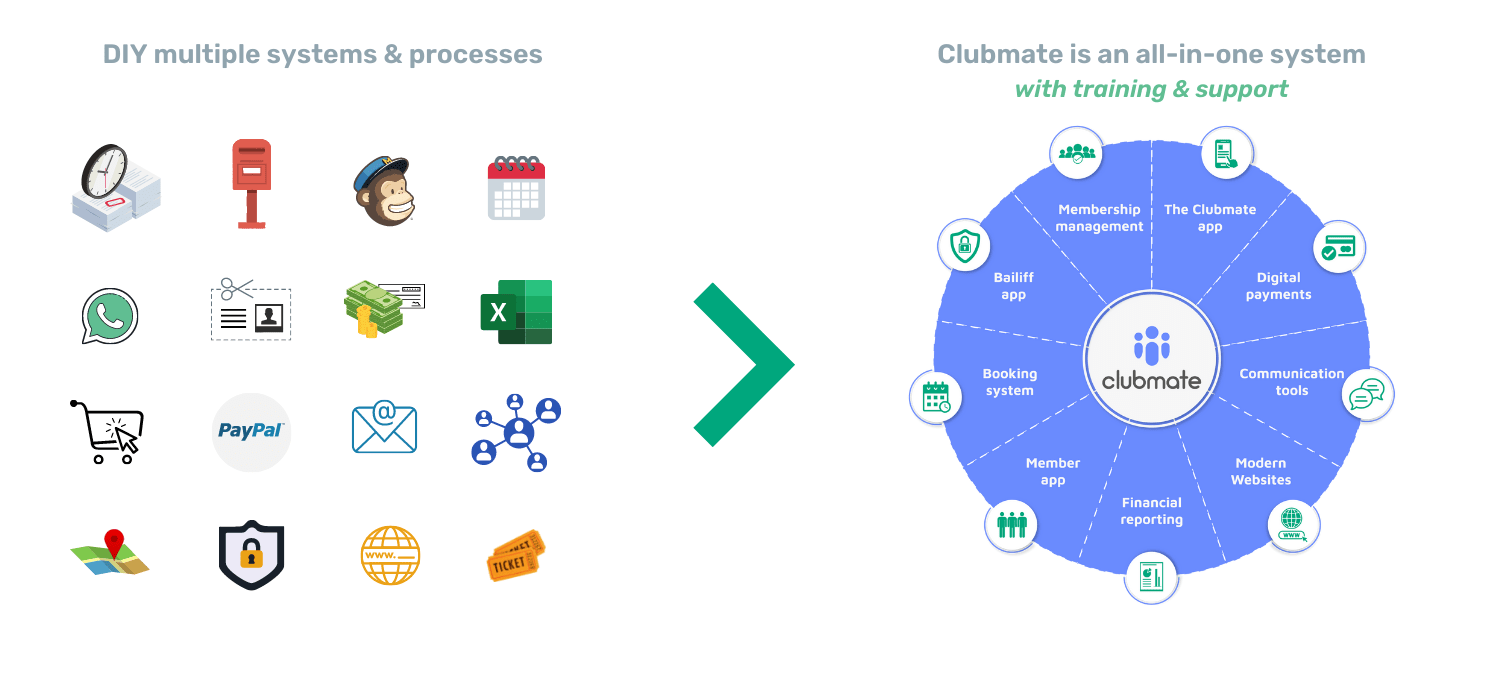 Member Management
Typically, a spreadsheet is the first place fishing clubs looking to manage their members digitally will start. This works initially, and while it eliminates the problem of using paper diaries, it doesn't change the fact that your membership secretary will still be responsible for updating the document manually. It's still time-consuming because there's no automation, it's not GDPR compliant and there's still the risk of communication breakdowns due to different versions of the spreadsheet being passed around between the committee. 
The benefit of using an end-to-end solution like Clubmate is that it's a centralised, secure cloud-based database. That means that all of your member data is stored in one place and can be accessed by different members of the committee through their own secure logins. Clubmate also empowers your anglers to manage their memberships themselves through their online member portal and the Angler App (which is free as part of your subscription) so there's less admin for you to do. You can provide your Bailiffs with restricted, secure access as well, so they're able to see who is and isn't a member in real-time.
Too often we find clubs in trouble when things go wrong, but Clubmate is designed to future-proof your club and support you all the way. For example, if a committee member falls ill and they happen to be the only individual with access to club data, then the club is in trouble. The same goes for if you're relying on the techy committee member to set everything up; what happens when they move on? Clubmate helps remove the dependency on a single individual so that the right person can step in at the right time, with access to the right information to do their job.
Online Payments
Many angling clubs turn to PayPal so that they can meet the demand of anglers wanting to pay for their memberships and day tickets online. It's understandable since PayPal is one of the biggest payments providers in the world, but that doesn't mean it's the best-suited solution for your club. PayPal doesn't offer online joining, so you'd still need to reconcile the payment with the member's details manually and there's no automatic communication that gets sent to the angler confirming their membership or day ticket purchase.
Clubmate allows you to automate the whole joining process and collect payments without having to leave the software. When a member joins your club, their payment is automatically updated in Clubmate so that you know their membership status is up to date and your Bailiffs can use the Bailiff App to confirm this when patrolling the bank. Clubmate is more cost-effective too; the PayPal for Business transaction fees come in at 3.5%, which is 1% more than Clubmate's transaction cost. Clubmate also offers you the option to turn on automatic renewals, so that you can maximise revenue when renewal season arrives and make it easy for those members that are happy for their membership to roll over.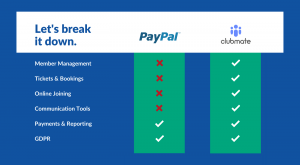 Communications
Effective communication is a pain point for many angling clubs. Communicating with anglers to keep them up to date with new information, confirming memberships, sharing gate codes etc. Communicating with members of the committee to make sure everyone is aware of new initiatives, sharing membership numbers and other club data and passing around documents. This is mostly done via email but often seeps into more personal forms of communication such as texts, WhatsApp messages and phone calls to the secretaries' mobile phones at all hours of the day. It's not a consistent way of communicating with everyone involved in your club, not to mention there'll be different contact information stored in different places.
You can store all member contact information securely within Clubmate as well as send emails, texts and push notifications directly from the software, whether that's to everyone, to an individual or specific groups of members. You can also automate different communications based on specific member activities that you define. Switching to sending messages from Clubmate will help you save time and save money on postage and stationery costs. What's more, your committee will benefit from being able to access key information such as reports and member details on the go using the Admin App. 
Club Website
Many angling clubs are beginning to understand the importance of having a functional club website. You can use it to market your club, host photos of your waters and allow new members to join online. Unfortunately, some clubs are discouraged from building their own website because you need some level of IT experience and paying a web designer to build the site can be costly. Plus, most pre-built templates available haven't been designed with the angling community in mind. 
Clubmate doesn't just offer member management software. We also create affordable websites designed specifically for clubs like yours every day. No IT experience is required on your part and you'll be working with real humans throughout the process. Setup and domain migration is completely free. Your new website will be integrated with the Clubmate system to facilitate online signups, renewals, ticket sales and online bookings.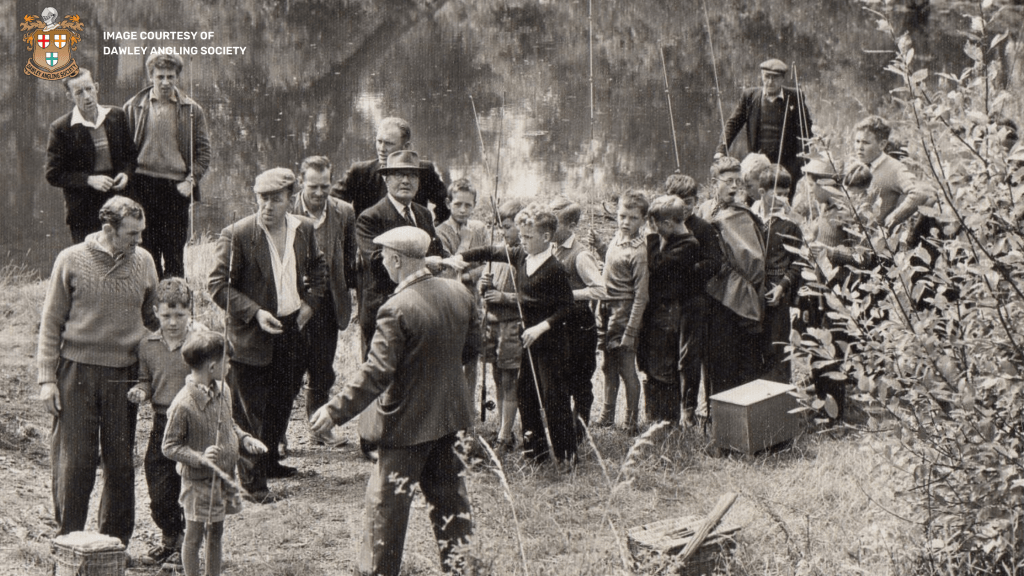 *image courtesy of Dawley Angling Society
At Clubmate, we pride ourselves on being an end-to-end fishing club management system created specifically for the angling community. No workarounds, just straightforward tools that help you to remove unnecessary admin, save money and take back your spare time. With everything you need in one place, it's no wonder angling clubs, fisheries and syndicates across the UK are choosing Clubmate.
To discover what else Clubmate can do for you, speak to one of our fishing club specialists today by giving us a call on 0333 987 4677. To see the software in action, you can book a free online demo.