At Clubmate, our mission is to inspire more people to fish more often and make sure angling clubs are around for future generations to enjoy. We firmly believe one of the best ways to accomplish this is by encouraging young people to join angling clubs and visit fisheries. 
Introducing children to fishing at a young age can spark a lifelong love of the sport and even potentially create future volunteers that the angling community undoubtedly relies on.
As part of our commitment to promoting junior angling, we recently launched an annual survey aimed at angling club volunteers and fishery owners to gauge the level of junior participation, as well as exploring ways to increase it. The first survey launched towards the end of 2022, and we're incredibly grateful to everyone that took the time to share their views. We've got lots of valuable data and feedback that we're excited to share with you.
Junior Participation in Angling 2023: Key Findings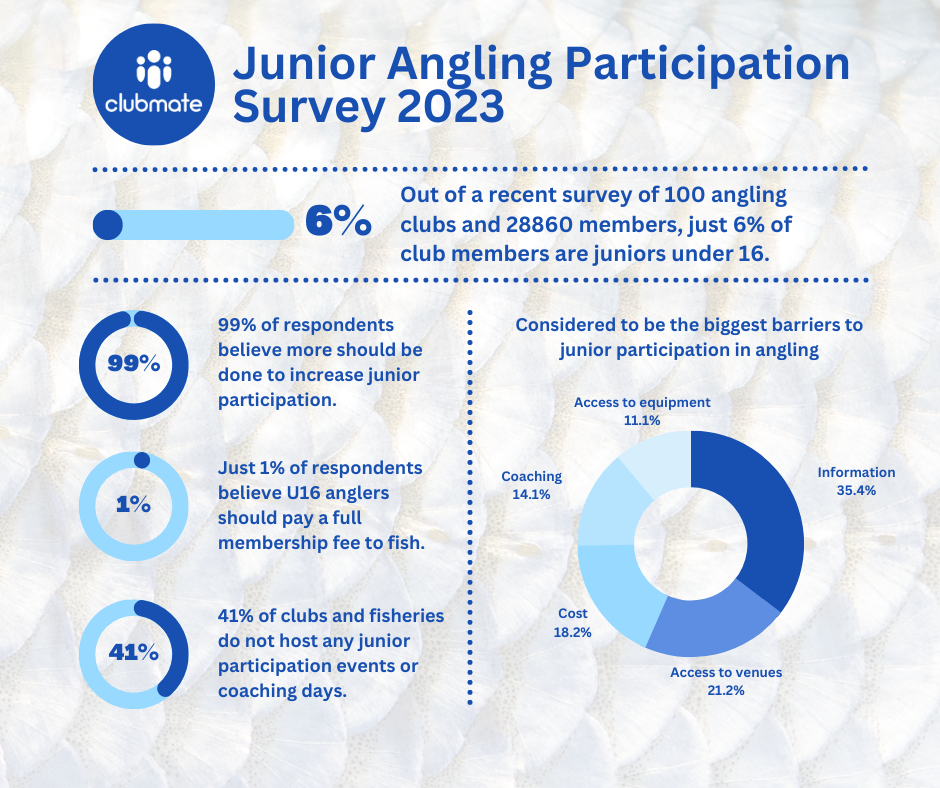 It's great to see significant interest in promoting junior participation in angling. Many respondents agree that introducing children to angling at a young age is vital to keep the sport alive and well in the future. 
However, some respondents feel they need more support and guidance on how to encourage junior participation – particularly in today's digital age where juniors have so many other distractions such as gaming, social media and other digital forms of entertainment.
For added insight, we looked at a cross-section of our data which highlighted that only 6% of members are Juniors under the age of 16. We believe this percentage is significantly lower than it should be, and as a business and team of passionate anglers, Clubmate is committed to finding ways to grow that number year after year.
Our Commitment to Help
As of 1st May 2023, Clubmate will not charge our fee per member for free junior memberships. That means if you offer

free memberships

to Junior members, you'll no longer pay Clubmate's software fee for them.

Young people have embraced the use of technology in their everyday lives – joining the local angling club or fishery should be as easy as using a games console! So we're going to double down our efforts in making it even easier for Junior members to join your club by improving the parent & child joining process as part of our forthcoming development plan.
We'll be creating educational materials that will assist angling clubs and fisheries in recruiting and retaining young members, as well as offering guidance on how to use digital channels to promote junior participation in angling (watch this space!)
We plan on supporting more charitable organisations to encourage junior participation. If you're involved with or know of a charity that aligns with our goals, feel free to get in touch at hello@clubmate.co.uk.
Finally, we've created The Knowledge Pool: an open Facebook group where committee members, fishery staff and volunteers can share best practices, discuss ideas, pass on knowledge and generally discuss topics that benefit the running of your club or fishery and the wider angling community. You don't have to use Clubmate to join, so please share with your peers. The more people that engage, the better! We'd love to hear examples of how you've encouraged junior participation.
Ultimately, we believe that the future of angling lies in the hands of the next generation. By inspiring and nurturing a passion for fishing in young people, we hope to create a sustainable future for this fantastic sport. We're excited to continue our work in promoting junior angling; supporting angling clubs and fishery owners in their efforts to encourage more youngsters to take up fishing.