Running a successful fishery involves more than just managing the waters; it also means efficiently handling bookings, ensuring anglers have a seamless experience, and maximising revenue.
That's where Clubmate comes in. Our comprehensive fishery management software provides advanced booking functionality that simplifies the process of managing boat bookings across multiple venues. What's more, there are no hidden charges or subscription costs for anglers. Let's dive into the features that make Clubmate a game-changer for fishery managers.
Simplified Boat Bookings
Clubmate's booking facility empowers fishery managers to offer anglers the flexibility to select a boat when making a reservation. It goes beyond just listing boat numbers; you can include images and provide specific information relevant to each boat, such as whether an anchor and drogue are supplied, how many people the boat can hold and if it's suitable for disabled anglers, enhancing the booking experience. If an angler has no preference, our system will automatically allocate a boat, ensuring a smooth booking process. This can really help your fishery staff so you always know who is on what boat and retain a digital record for future reference (so you'll know who to return that forgotten fly box to!).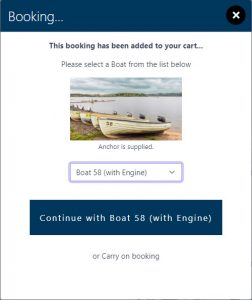 Waiting List Feature
For those peak fishing days when all spaces seem to be taken, anglers can join a waiting list. This feature ensures that if a space becomes available due to a cancellation, those on the waiting list will receive an email notification, giving them the opportunity to book. This way, your fishery never misses out on potential revenue.
Flexible Payment Options
While many anglers prefer the convenience of booking in advance, we understand that some still like to pay in person or with cash at the venue. Clubmate caters to both preferences. You can accept offline payments alongside advance bookings, accommodating a wide range of angler preferences. After all, it's your fishery, and we believe you should have the flexibility to manage it your way.
Effective Communication
Effective communication is crucial for a successful fishery. Clubmate offers communication tools that allow you to send messages to individuals or groups of anglers booked on a specific date. This feature is handy for sharing updates, guidelines, or important information to enhance the angler experience.
Bailiff Check-In
Bailiffs can easily check anglers in and out using the Clubmate bailiff app as they go out onto the water and return. This not only streamlines the process but also provides you with a comprehensive report on the anglers in attendance at your venue. It's a valuable tool for ensuring the safety and security of your fishery whilst retaining digital records for future reference.
Booking Flexibility
Clubmate understand that every fishery is unique. You can choose to take bookings without allowing anglers to select individual boats. Instead, you can assign boats on a first-come, first-served basis upon arrival while still controlling the number of anglers to match the available boats. Advance payments provide you with security as a fishery owner, allowing you to plan effectively.
Clubmate's fishery management software is designed to simplify the complexities of running a fishery. With advanced booking functionality, waiting lists, flexible payment options, effective communication tools, bailiff check-ins, and booking flexibility, Clubmate empowers you to manage your fishery efficiently. Best of all, there are no subscription costs or hidden charges for anglers. Take control of your fishery's success with Clubmate and tailor your management approach to suit your unique needs. It's your fishery, your way.
If you're already using Clubmate, check out our help article on how to implement resources here.